Don't forget! The next Volunteer Trail Work Day on the flow trail at SDSF is scheduled for this coming Saturday February 28, with Silicon Valley Mountain Bikers (SVMTB) generously providing the day's hospitality, along with regular work day sponsors Whole Foods, Summit Store, Adventure Sports Journal, and Ninkasi Brewing. We're looking forward to another inspiring day of trail building and camaraderie out on the flow trail! Sign up for this work day HERE.
You Dig, You Ride! And All Are Welcome!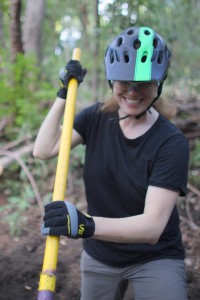 Volunteer involvement is crucial to completing the flow trail. Work days are scheduled twice a month (see Volunteer Trail Work Day Schedule), and include breakfast, lunch, and post-work day gathering featuring refreshments and a volunteer raffle provided by Adventure Sports Journal and other generous project supporters. Trail work days sponsored by Ibis Cycles and Mick's Automotive are still ahead on the winter schedule.
Everyone is welcome — no trail work experience required! Our supportive, experienced crew leaders and trail builders will teach you techniques and make a confident trail builder out of you in no time flat. Plus, volunteer trail workers get to test ride and dial in new sections of the flow trail—how cool is that?!
Keep in mind that trail work days may be cancelled or rescheduled due to inclement weather and/or hazardous conditions.
Sign up here:
https://docs.google.com/forms/d/1NFIFltm3DKZ2dZKSy1Pcxl9rU2oV-i2SjovkPP5RnlE/viewform