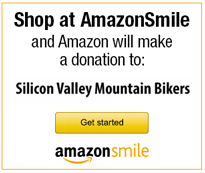 Amazon has opened up another source of donations to non-profits such as SVMTB.
Just do your shopping through the Amazon Smile web site, choose SVMTB as the recipient of Amazon's donations, and Amazon will donate 0.5% of the purchase price of eligible products to SVMTB.
Yes, Amazon Smile has the same prices and products as the normal Amazon web site, but with the benefit of painless donations for more trails.