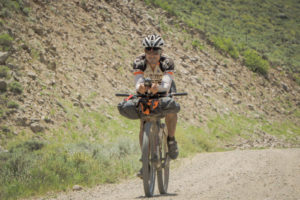 Please join us for dinner and to hear guest speaker, Brian Lucido talk about winning the June 2017 Tour Divide, a  2,769-mile mountain bike race in 14 days, 22 hours 50 min. The Tour Divide is an ultra-endurance, bikepacking challenge to pedal solo and self-supported the length of the Great Divide Mountain Bike Route – Canada to the Mexican border. As a teenager in Mountain View, Brian started mountain biking but had only raced a few times at Sea Otter and Downieville. He signed up for the Tour Divide race early 2017 and spent a lot of time studying the route. Besides discussing how he won this challenging race, he is going to talk about lightweight bike touring. His talk will cover his tours including the South America tandem tour with his wife.
RESERVE YOUR SPOT NOW! – limited capacity.
DATE: Saturday, February 3, 2018
LOCATION:  Blue Pheasant Golf Course
ADDRESS: 22100 Stevens Creek Blvd, Cupertino, CA 95014
COST: $32 per person, $25 for 12 yrs or under (Cash Bar)
TIME: 6:00pm Doors Open, 7:30pm Dinner Served, and 8:30pm Coffee and Dessert
Please mail a check made out to SVMTB & mail to SVMTB PO Box #1723 Campbell, CA 95009-1723 Deadline Wednesday 01/31/18. Questions call Linda Wegner 408 257-8284 or email retrobiker@earthlink.net If space is still open some last minute reservations accepted after 01/31/18 – call 408 257-8284.
Names & Number of Attendees: ______________________________
Phone # : ______________________________
Email: ______________________________
Circle the entrée selection desired & note how many:
(All dinners include mixed green salad, fresh vegetables, french bread, coffee, tea, chocolate mousse dessert)
1. Pasta Primavera, Fresh seasonal vegetables sauteed with garlic, fresh herbs & white wine served over piping hot linguini – a vegetarian entrée.
2. Broiled Salmon, Fresh king salmon broiled to perfection and topped with a fresh dill sauce with rice pilaf.
3. Chicken Buona Donna, Sauteed boneless breast of chicken with prawns, roasted red peppers in a sherry wine with rice pilaf.
4. London Broil, Strips of London broil served au jus with fresh mushrooms with scallop potatoes.